Korea 2012 Guest Post – Gaby Parker 2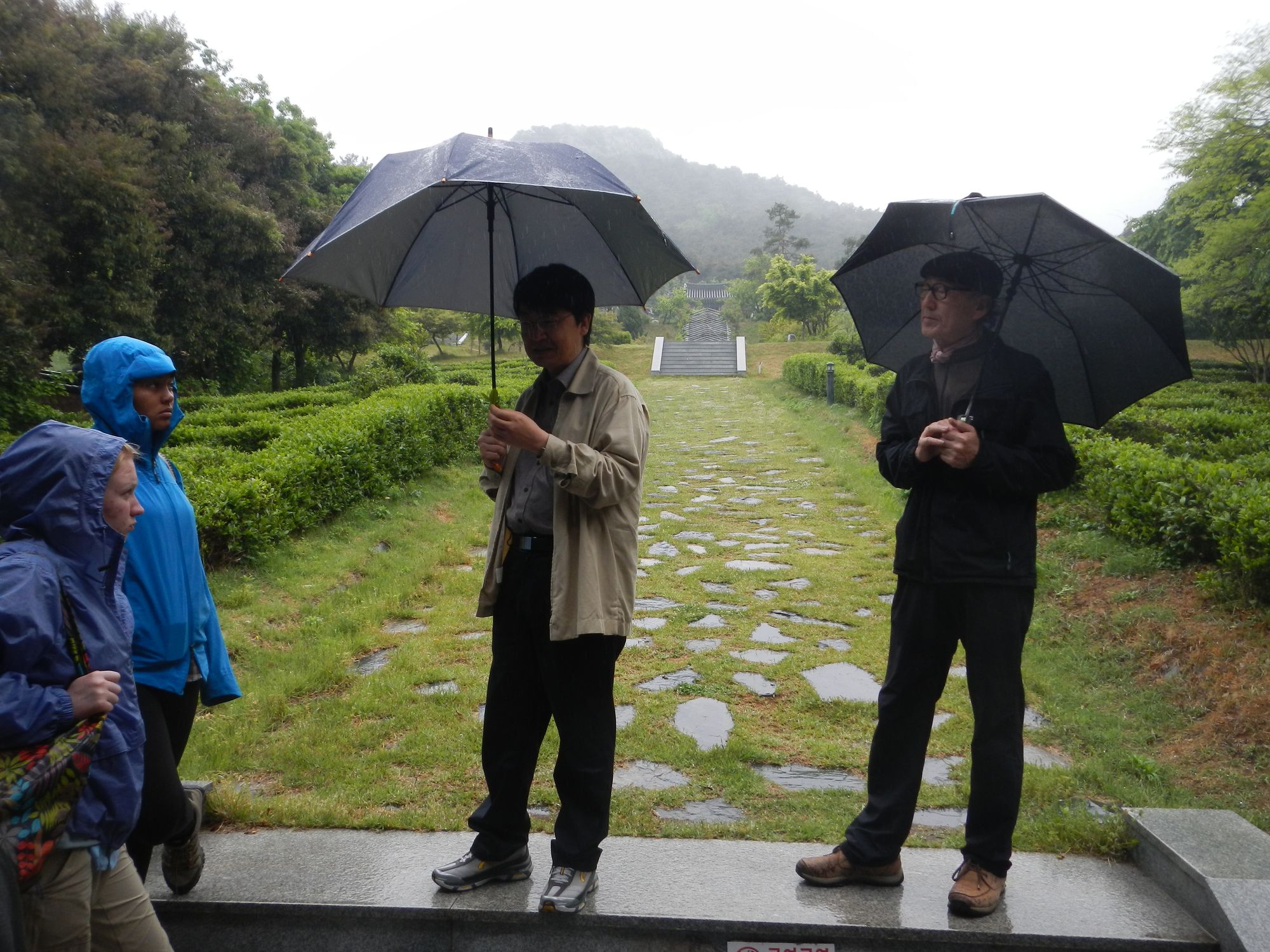 We spent two days with Professor Park, Director of the Paik-Inje Memorial Library, and Mr. Jang, Manager of the Paik-Inje Memorial Library traveling from Gimje to Gurye.
First we stopped for lunch in Muan for a traditional Korean meal, with lots of banchan (Korean Side Dishes). Like all Korean food, it was completely amazing! It will be odd returning home and only have one side with the main dish. Especially when in Korea, a meal comes with at least 15 different types of side dishes! Next, we visited Zen Master Cho-ui's home, temple and tea plantation. It was so beautiful and well taken care of. There was also a tea museam, that went through the Korean tea history and Cho-ui's influence over ti. We learned that the people who run it have their own tea company. We drank a Saejak, green tea, and a yellow tea with our guide.
The final place we went that day was the daeheung-sa temple, where Professor Park planned a temple stay for us that night. Our room had a beautiful view of the surrounding mountains, I could get used it everyday! It was a great experience, we traveled to some hermitages around the main temple to have tea with Monks and experienced morning prayer. I don't know too much about Buddhism but it was an interesting experience. I definitely want to learn more about it because of how much culture and history that comes with each different temple. All of the temples and their separate buildings our so unique and genuine in their own way.
The next day, we continued our journey to Gurye to Mr. Hong's tea field and home! Our first stop of the day was DaeSung's hermitage on a secluded mountain side. At the top was his home and library. A recent addition to the hermitage was a look-out tower that overlooked the countryside and a beautiful river. Korea's mountainsides are truly underrated. Once at the top of a mountain, the view below you is truly breathtaking. I have never seen anything like them in my life and I love that I've been able to experience them and make the journey to the top. It's never easy in the beginning, but the view at the top makes everything worth it.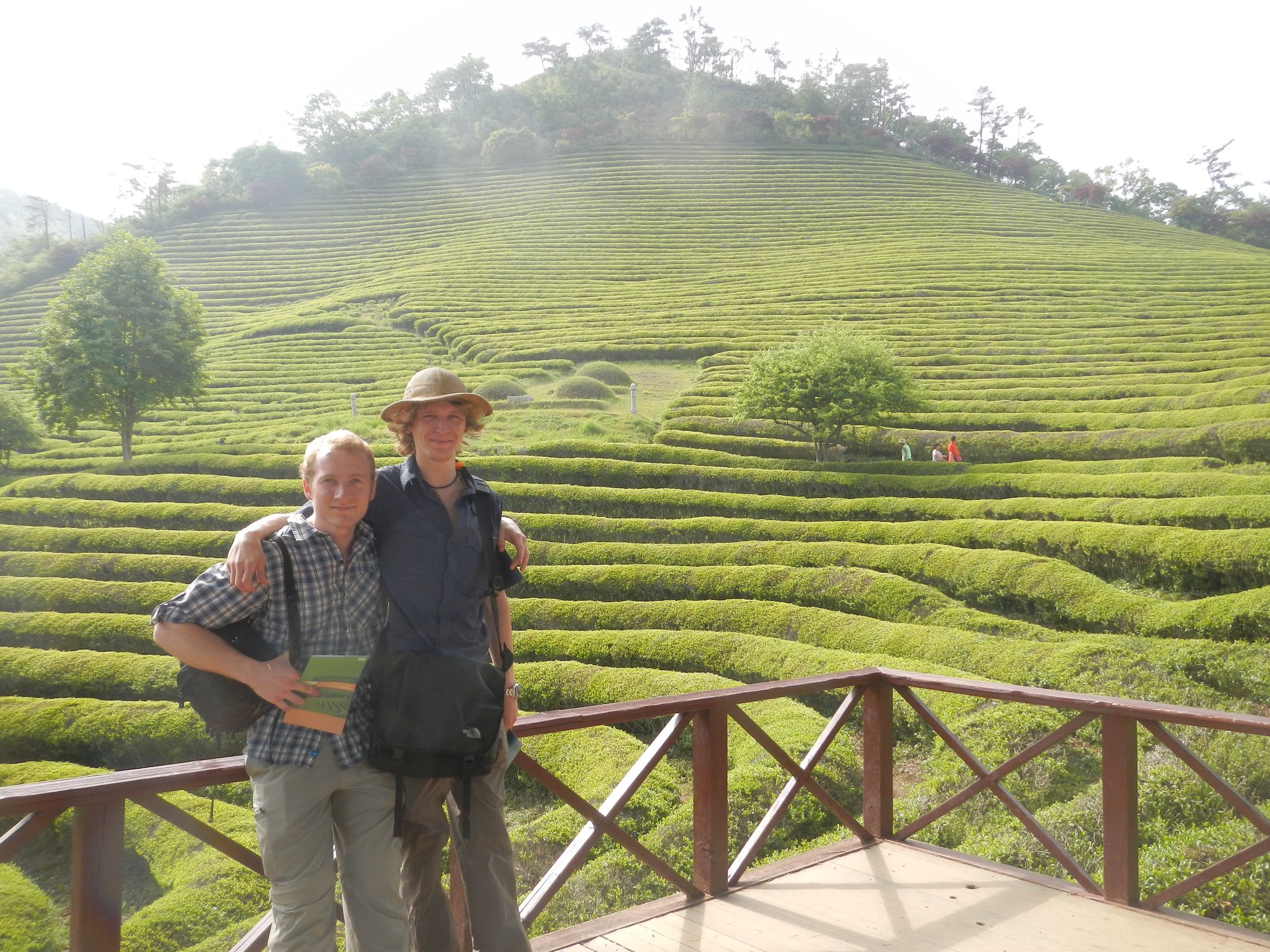 After, we drove to Boseong Tea Fields. Think amusement park, but tea themed! Not only are they famous for their beautiful tea fields and tea but apparently, a Korean drama was filmed there! The tea fields were located a big mountainside, carefully grown in consistent rows all the way to the top. Every couple rows, you would see ladies picking the tea leaves! The hike to the top was pretty intense, a couple hundred rows. Like always, the view from the top was amazing. Just to see how much time was put into the field itself and how beautiful it was, was so phenomenal. And, of course the best part about any theme park…was the gift shops. If it involved green tea, it was there! Green tea ice cream, green tea chocolate candy, green tea cookies, and even green tea wine! I recommend the green tea ice cream, such a delicious treat on a hot day, overlooking the fields that it came from!
After leaving, we made the final push to Gurye! Once we arrived, Mr. Hong joined us for dinner. The banchan was an easy 28 different side dishes, and every single one left you wanting more! The rest of the night was relaxing while we drank tea at Mr. Hong's home and enjoyed his beautiful view overlooking Gurye and the surrounding mountains! A relaxing night before our first day of hard work in the fields, picking and processing tea!